We are giving away 20 Kids Camp Scholarships and 7 Family Camp Scholarships!! With a scholarship you can attend one of the respective camps between June & August 2020! These scholarships are intended for local students and families. With this we want to give the local community the opportunity to learn more about sustainability and how they can use this knowledge in their own community.
Step 1
Create a creative video in English explaining why you would like to receive this opportunity, and how you would implement your newly acquired green knowledge and skills back into your community.
Step 2
Upload the video to your Instagram and/or Facebook and mention @greencampbali and #KidsCampScholarship or #FamilyCampScholarship in the caption depending on the scholarship you want to win. Participating Instagram accounts and Facebook posts have to be public, in case of being private the entry will be considered disqualified.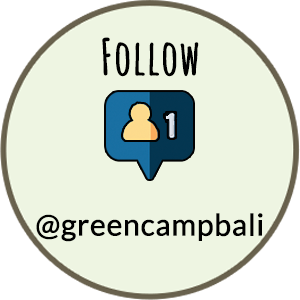 Step 3
Follow @greencampbali on Instagram and/or like our Facebook page.
The deadline for this contest is May 15th, 2020 by 9:00 pm WITA. And the winners will be announced May 30th, 2020 on our Instagram and Facebook. This giveaway is for Bali residents ONLY.