About Us
We aim to inspire campers to develop a strong sense of connection within themselves and nature as well as planting the seed to live a more a sustainable life. We believe that experiential education focused on sustainability helps campers to better understand the world around them and their personal impact in a fun and memorable way.
Learning Adventures Inspired By Nature!
Green Camp is located at Green School Bali, one of the greenest and most innovative campuses in the world. Set in this beautiful location, we offer programs for children, families, school groups, and corporations with a range of fun activities that challenge campers physically, intellectually and emotionally.
Our "wall-less" campus is surrounded by educational gardens, shaded outdoor learning areas, a workshop space made entirely out of bamboos and an outdoor field – you've never seen a place like this!
Designed by experienced facilitators, our activities will cultivate survival skills, develop sustainability knowledge and awareness, and empower individuals–all this while having a blast!
Vision
Flourishing communities of people connected to nature and each other.
Mission
Community of Learners Making our World Sustainable
Our Acommodation
Experience eco-living in our beautiful and comfortable bamboo yurts.
Bamboo Villa
Built from bamboo and local renewable sources, Green Camp accommodation truly resembles the natural world around us. There are 6 community houses that accommodate 2 to 5 families per house in the family camp. The Island houses have 7 rooms (4 rooms downstairs and 3 rooms upstairs), this dormitory lodging accommodates our kids camps or school group camps. The 6 bamboo yurts over looking the jungle cliffs are perfect for all type of camps.
In total we can accommodate 114 people!
The Lodge
Located on the East side of the Ayung River, the Lodge is a dormitory style accommodation that can sleep up to 40 people.
Best suited for schools and corporate groups, the 2-floor Lodge is built around the perimeter with a common area in the middle. It is equipped with ceiling fans, blankets, towels, mosquito nets and individual lockers. There are 2 separate bathroom facilities located outside of the building, sustainably serviced by our wastewater garden system.
Our Organic Gardens
Our dedicated garden team utilizes permaculture and organic gardening methods, focusing on sustainable farming.
To Plant A Garden Is To Believe In Tomorrow
Let's teach our current and next generations how to heal the planet one garden at a time! Campers will develop nature awareness, learn earth sciences and how to grow food for themselves and their community.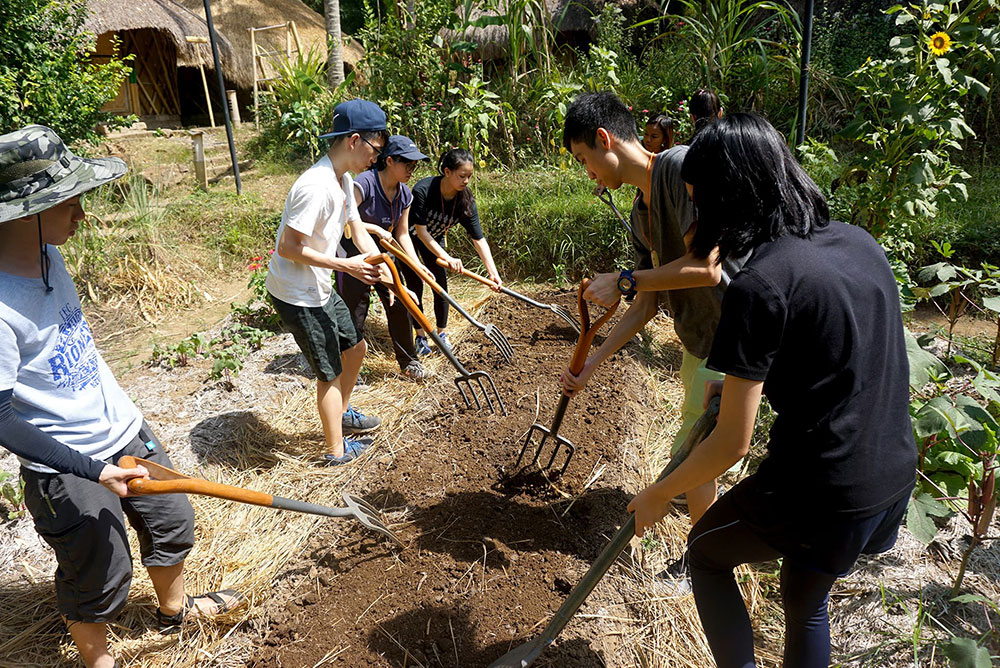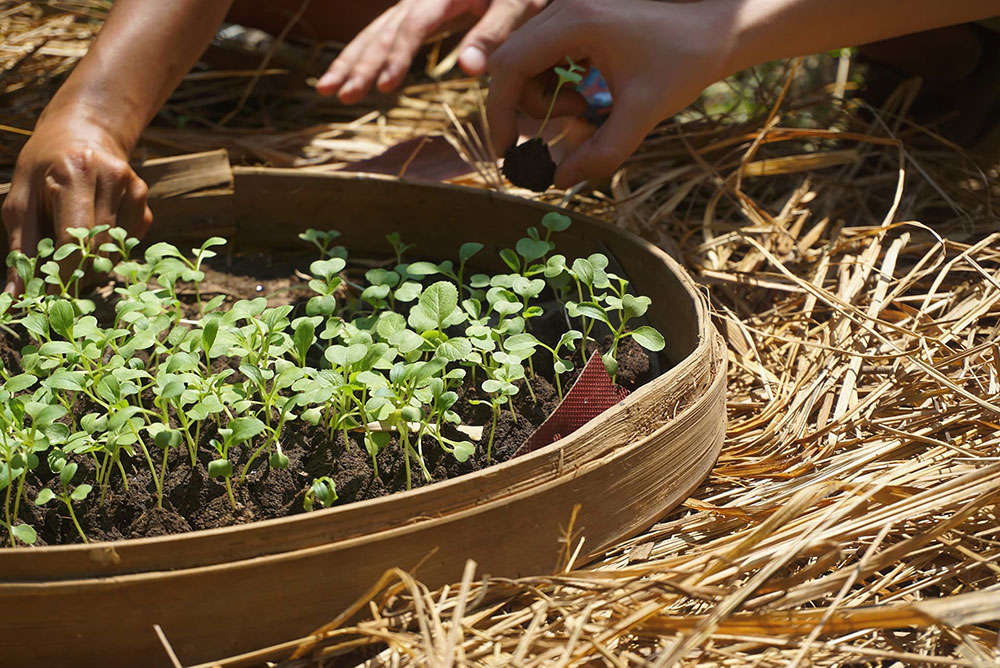 Our team
Our Green Camp facilitators are experienced educators, super fun individuals, and certified with safety qualifications. 
Certified First-Aid & Wildlife First Responder
Campers often remark the connection students develop to our charismatic, caring and professional staff. Our Balinese and Indonesian staff are English fluent speakers and provide insight into the unique culture of this island.
Green Camp has a high staff to camper ratio, ensuring that all campers are well-supervised and receive individualized attention from our facilitators.
Green Camp facilitator safety qualifications: First-Aid Level I & II Certified by International SOS, Wilderness First Responder. During camp, we have 24-hour supervision by our security staff, availability of our facilitators, as well as medical staff on-site and/or on-call at all times. In the event of an emergency, the closest hospital from Green Camp is 20 minutes away, RS Surya Husada, Ubung
RESKI AMIRULLAH "KIKY"
Camp Director
Read more
Makassar bred, but able to speak multiple languages including English, Spanish and French like a native! She moved to Bali almost 5 years ago after living in Vancouver, Canada more than half a decade. A Green Camp veteran, Kiki is fundamental to the development of our programs to include sustainability learning and a lot of fun.
FERLIYAN TAHIR "FERLI"
Assistant Program Manager
Read more
Born and raised in Bali, Ferli spent his childhood amongst rice paddies in Sanur and pristine beaches. He spent 10 years working in the tourism and hospitality industry, both in his beloved homeland and abroad.
RYAN ADE PUTRA "RICE"
Facilitator
Read more
Born in the heart of Borneo Island, Ryan is one of the facilitators of the Green Camp that will ensure your experience triumphant and memorable. His love of mountain hiking, jungle walking, and photography, along with his background in education will help campers to not only having fun, but also discovering new things.
Devina Octovinata
Facilitator
Born in Jakarta and raised in Bandung, Devina was formerly an elementary and English teacher before she became a part of Green Camp.
She enjoys traveling, being in nature, and doing some sports. She likes working with kids as well!
Annisa Indira "Dira"
Facilitator
Dira grew up in Yogyakarta and has worked in the Education as an English teacher for 3 years, gaining experience in teaching, developing curriculum, learning plans, and teaching media. She is highly passionate about teaching and does volunteer work. In addition, she enjoys reading, being outdoors, and free diving.
Rian Siregar
Facilitator
Born in West Java, grew up in the Riau Islands, and was a class teacher in Bangkok and Jakarta before finally joining Greencamp. Loves nature, the ocean, culture, and skateboarding.
YUNI MARATUS SHOLICHA "YUNI"
Junior Facilitator
With a deep-rooted passion for nature, Yuni finds joy in being part of a place that echoes her love for the environment. A true Happy Storygrapher, Yuni paints the chapters of her life with vibrant hues of gratitude and exploration.
NI LUH RINI PURNAMASARI "RINI"
Operational Coordinator
Dina Ayu Tyas Diansari "Dina"
Communication and Camp Liaison Officer
Born as mix raced, Dina grew up in such a huge family with diversity of cultures and traditions. Dina will take care of your smooth experience on your journey to Green Camp. And will be wanderlust during her free time to explore her true colors.
Ni Made Indri Desiyanti
Account Administrator
Indri berasal dari Tabanan, Bali. Dibesarkan dengan keluarga yang hebat dan luar biasa sampai jenjang pendidikan Sarjana Akuntansi.
AGUS SUADNYANA "AGUS"
Operational Support
ANAK AGUNG KARTIKA "AGUNG"
Kitchen Supervisor