About Us
We aim to inspire campers to develop a strong sense of connection within themselves and nature as well as planting the seed to live a more a sustainable life. We believe that experiential education focused on sustainability helps campers to better understand the world around them and their personal impact in a fun and memorable way.
Learning Adventures Inspired By Nature!
Green Camp is located at Green School Bali, one of the greenest and most innovative campuses in the world. Set in this beautiful location, we offer programs for children, families, school groups, and corporations with a range of fun activities that challenge campers physically, intellectually and emotionally.
Our "wall-less" campus is surrounded by educational gardens, shaded outdoor learning areas, a workshop space made entirely out of bamboos and an outdoor field – you've never seen a place like this!
Designed by experienced facilitators, our activities will cultivate survival skills, develop sustainability knowledge and awareness, and empower individuals–all this while having a blast!
Vision
Flourishing communities of people connected to nature and each other.
Mission
We immerse campers in nature-based and transformative learning adventures to inspire sustainable ways of living.
Our Acommodation
Experience eco-living in our beautiful and comfortable bamboo yurts.
Bamboo Villa
Built from bamboo and local renewable sources, Green Camp accommodation truly resembles the natural world around us. There are 6 community houses that accommodate 2 to 5 families per house in the family camp. The Island houses have 7 rooms (4 rooms downstairs and 3 rooms upstairs), this dormitory lodging accommodates our kids camps or school group camps. The 6 bamboo yurts over looking the jungle cliffs are perfect for all type of camps.
In total we can accommodate 114 people!
The Lodge
Located on the East side of the Ayung River, the Lodge is a dormitory style accommodation that can sleep up to 40 people.
Best suited for schools and corporate groups, the 2-floor Lodge is built around the perimeter with a common area in the middle. It is equipped with ceiling fans, blankets, towels, mosquito nets and individual lockers. There are 2 separate bathroom facilities located outside of the building, sustainably serviced by our wastewater garden system.
Our Organic Gardens
Our dedicated garden team utilizes permaculture and organic gardening methods, focusing on sustainable farming.
To Plant A Garden Is To Believe In Tomorrow
Let's teach our current and next generations how to heal the planet one garden at a time! Campers will develop nature awareness, learn earth sciences and how to grow food for themselves and their community.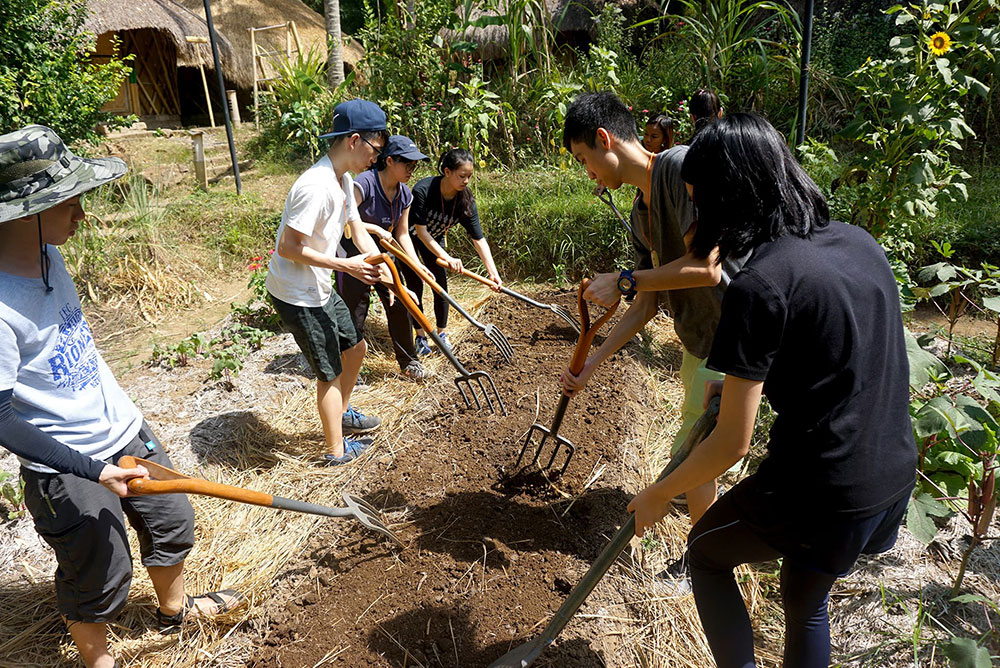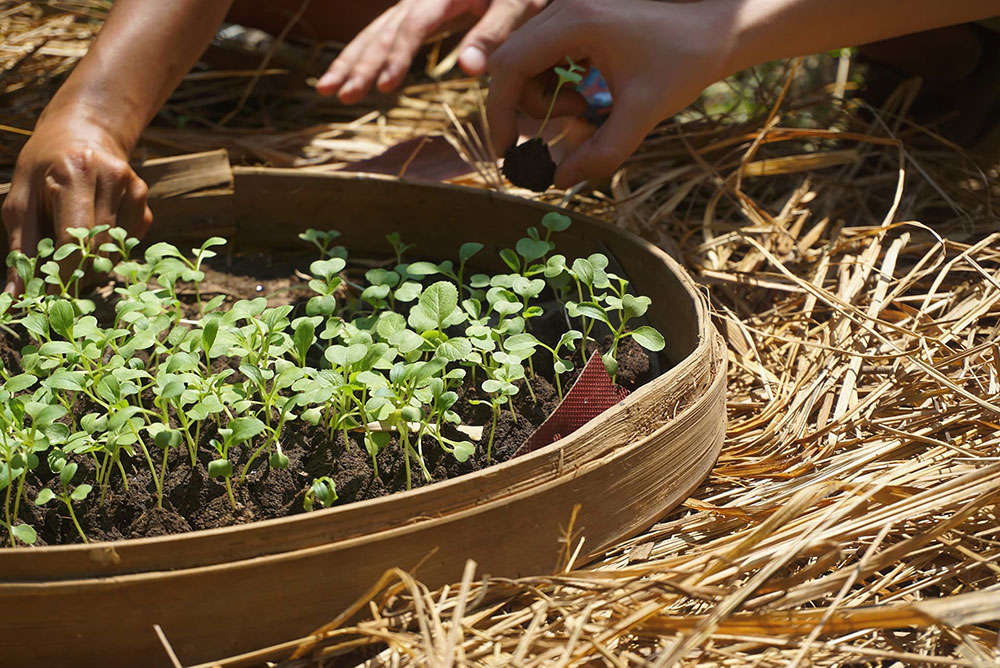 Our team
Our Green Camp facilitators are experienced educators, super fun individuals, and certified with safety qualifications. 
Certified First-Aid & Wildlife First Responder
Campers often remark the connection students develop to our charismatic, caring and professional staff. Our Balinese and Indonesian staff are English fluent speakers and provide insight into the unique culture of this island.
Green Camp has a high staff to camper ratio, ensuring that all campers are well-supervised and receive individualized attention from our facilitators.
Green Camp facilitator safety qualifications: First-Aid Level I & II Certified by International SOS, Wilderness First Responder. During camp, we have 24-hour supervision by our security staff, availability of our facilitators, as well as medical staff on-site and/or on-call at all times. In the event of an emergency, we have partnered with Surya Husada Hospital located 20 minutes drive away from camp.
RESKI AMIRULLAH "KIKI"
Camp Director
Read more
Makassar bred, but able to speak multiple languages including English, Spanish and French like a native! She moved to Bali almost 5 years ago after living in Vancouver, Canada more than half a decade. A Green Camp veteran, Kiki is fundamental to the development of our programs to include sustainability learning and a lot of fun.
FERLIYAN TAHIR "FERLI"
Assistant Program Manager
Read more
Born and raised in Bali, Ferli spent his childhood amongst rice paddies in Sanur and pristine beaches. He spent 10 years working in the tourism and hospitality industry, both in his beloved homeland and abroad.
RYAN ADE PUTRA
Facilitator
Read more
Born in the heart of Borneo Island, Ryan is one of the facilitators of the Green Camp that will ensure your experience triumphant and memorable. His love of mountain hiking, jungle walking, and photography, along with his background in education will help campers to not only having fun, but also discovering new things.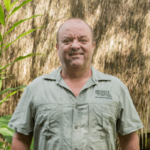 KENNY PEAVEY
Head of Curriculum and Learning, Manager of Sales and Marketing
Read more
Kenny is the newest member of the Green Camp Team! Originally from the USA, he's been teaching in the region for 20+ years as a science teacher and expedition leader in Malaysia, Thailand, Singapore, Indonesia and Vietnam. He's ridden a bamboo bicycle from Thailand to Bali to raise awareness for sustainability and paddled a kayak while circumnavigating Phuket, Thailand to spotlight marine conservation issues in Southeast Asia.
Kenny holds a Bachelor's (BS) degree in Biology, a Masters (MS) in Science Education and is a certified math and science teacher as well as a certified Wilderness Emergency Medical Technician (WEMT) and First Responder. He brings his knowledge and skills in natural history, ecology, emergency first aid, service learning and leadership to Green Camp. Kenny will help to make sure you have a fun learning adventure when you visit. Make sure to say hello to Kenny next time you visit!
WINDA EDELWIS ZEDILLA "WINDY"
Facilitator
Read more
Born and raised in the stunning West Sumatra province. Pretty much inspired by working with youth and kids as she used to facilitate youth empowerment and leadership camps in Malaysia and Indonesia. Before joining Green Camp team, she studied International Relations and did a master of public policy, foreign affairs, and diplomacy. As the years went by she discovered her real passion was to deepen her knowledge about environmental sustainability development while having fun! Traveling is her best buddy while writing is her best traveling companion. She's also deeply fascinated by doing outdoors activities. You will definitely have so much fun of your life with her!
VITA JAYANTI
Communications and Guest Relations
Read more
Vita was born and raised in​ small town Malang, East Java​. ​She moved in to Bali after finishing her stud​y in ​​International Relations. ​Her passion in living a sustainable life has brought her to Green Camp. She is very passionate about the ocean and yoga​ ​(teaching yoga too!). She is in charge for Communication and Guest Relations, so when you send email to Green Camp, it is Vita who you are talking to!
NI LUH RINI PURNAMASARI "RINI"
General Administration / Receptionist
Read more
A Balinese born and raised, she is the kindest-hearted and sweetest individual to anyone she meets. Having studied Japanese literature in STIBA Saraswati, she is fluent in Japanese and English.
AGUS SUADNYANA "AGUS"
Operational Support
Read more
A Sibang Kaja native, Agus holds a significant role in supporting the structure of our site, ensuring all programs at Green Camp are well-equipped and running smoothly. Learning and practicing from our on-site garden, he plans on opening his very own local groceries store with his wife one day.
ANAK AGUNG KARTIKA "AGUNG"
Kitchen Supervisor
Read more
Born in the city of Klungkung, Bali. When she is not cooking her delicious food to our lucky stomachs, she is in search of and experimenting new recipes. She is skilled in many cuisines, including Balinese, Javanese, Indian to Italian, and Mexican!
NI LUH PUTU SARI DEWI "ILUH"
Housekeeping
Read more
A true Balinese lass, Iluh is hardworking, dedicated, reliable and motivated young lady. Having worked for 2 years at Green Camp as our housekeeper, she knows so much about the site and is essential to our team. On her spare time, she like eating, traveling and cooking–she aspires to be a chef one day!
I KADEK DWI JAYANSA
Operational Support
Read more
Famously called "DWI" as his nickname, he is a Balinese origin who was born in Abiansemal, Badung. He loves doing sport especially volleyball and fishing. His passion in nature and education makes him the "it" guy when it comes to assisting the camp programs!