About this Partnership
AYANA is proud to be one of Bali's leaders in sustainable hospitality. Inspired by the Balinese Hindu principles of Tri Hita Karana – or the healing philosophy that creates harmony between humans, nature, and gods – we seek to give back to Earth from which we draw our strength.
We have consistently ranked as the regional leader in the lowest CO2 emissions per guest and continue to invest in ESG initiatives including the formation of a permaculture farm and various infrastructure projects to allow us to recycle 80% of our sewage water for use in our irrigation and public water features, and upcycle 90% of our organic waste to create 100 tonnes of compost which we use to fertilize our many plants.
In seeking for new ways to nurture love and care for nature in our guests, and realizing that the best way would be through education of little ones, we formed a partnership with Green Camp Bali – world pioneers in purpose-driven camp experiences.
Description
Back by popular demand, starting July 4, 2023 AYANA presents Green Camp AYANA, a collaboration with Green Camp Bali, one of the greenest and most purpose-driven camp experiences in the world. Suitable for children ages 7-12, Green Camp AYANA offers holistic, nature-immersed programs for children staying within the AYANA Estate and the surrounding areas.
The camps offer immersive adventures in nature that take children outside the box of their daily lives and into the wonder and wisdom that exists within them and in the world around them. Our camps have been designed so that campers can join for a single day or combined in a series for a multi-day adventure.
Detail Program
Ages: 7-12 y.o.
Dates: Every Tuesday to Saturday, starting July 4, 2023
No. of Days: Single or multiple days
Duration: 9:30 – 14:30 (Drop off at 9:00)
Location: Ayana Estate
Max Capacity: 20 Explorers*
Price: Rp 1,870,000++ per day*
Discounts: 10% discount for sign ups of 3+ days
* Price includes all activities, materials, snacks and lunch.
Our experiential programs will challenge your child in fun and inspiring ways and help them grow in confidence, resilience, and awareness so that they can become change-makers in their own lives, communities, and beyond.
Designed by experienced facilitators, our activities will cultivate survival skills, develop sustainability knowledge and awareness, and empower individuals–all while having a blast!
Green Camp's main campus is located near Ubud on Green School Bali's "wall-less" campus surrounded by permaculture gardens, shaded outdoor learning areas, a workshop space made entirely out of bamboos and an outdoor field. If your child loves Green Camp AYANA, please check out the various multi-day camps Green Camp offers here. See our FAQ.
Junior Scientist | Tuesdays
Captivate the scientist within. Explore rock pools, get to know bugs and insects and learn how to make paper out of recycled dry leaves!
Bamboo Design and Builder | Wednesdays
All about bamboo! Learn fun and creative ways to design and build with one of the strongest materials on the planet!
Nature Explorer | Thursdays
Learn about the magic of materials that exist in nature with fun arts and craft activities! Learn how to make clay from soil, climb a coconut tree, weave coconut leaves and paint with natural dyes.
Survival Skills | Fridays
Can you survive in the wild? Take a trek through the jungle and learn how to collect and filter water, build shelter and start a fire.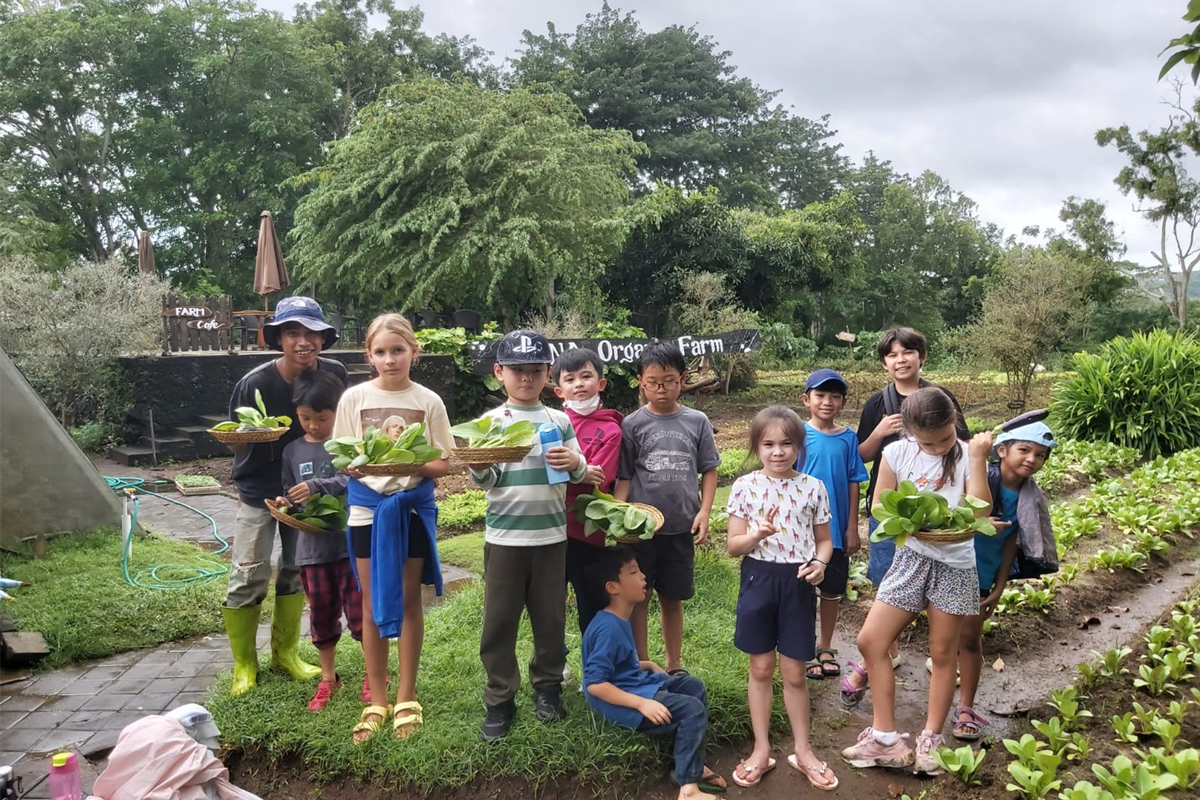 From Seed to Table | Saturdays
Connect with food! Discover where food comes from through fun gardening activities, food foraging at AYANA Farm followed by an Indonesian cooking class.
TYPE:
Kids Day Camp
AGES:
7 – 12 y.o
TIME OF THE YEAR:
All Year Around 
DURATION:
9:30 – 14:30 (Drop off at 9:00) (5 Days a week)
LOCATION: Ayana Estate
PRICE:
Rp 1,870,000++ per day*
* Price includes all activities, materials, snacks and lunch
WHAT'S INCLUDED:
Five days full of fun adventures inspired by nature activities specially designed by green facilitators! With yummy and healthy snacks and lunch.
See below the most common activities included in our program:
Flora and fauna scavenger hunt

Explore estuary ecosystem

Jungle Trekking

Coconut Tree Climbing and Creation

Designing and Building with Bamboo

Bugtastic "make friends with bugs!"

Gardening and Cooking

Many more exciting activities!

More
Fun and engaging workshops
Green Camp facilitator safety qualifications: First-Aid Level I & II Certified by International SOS
24-hour supervision by security and facilitators
Medical staff on-site and/or on-call
There will be a minimum of 4 kids in order for the camp to run and a maximum of 20 kids can join our kids camps at a given time – this makes for a close-knit, casual, and uncrowded ambiance.
Upon confirmation, we will send you via e-mail an Online Participant Information form that needs to be filled out with your information details including dietary needs, allergies, medical information and emergency contact number. Enclosed in the email you will also find a Prep-Pack that contains useful information to get you prepared.